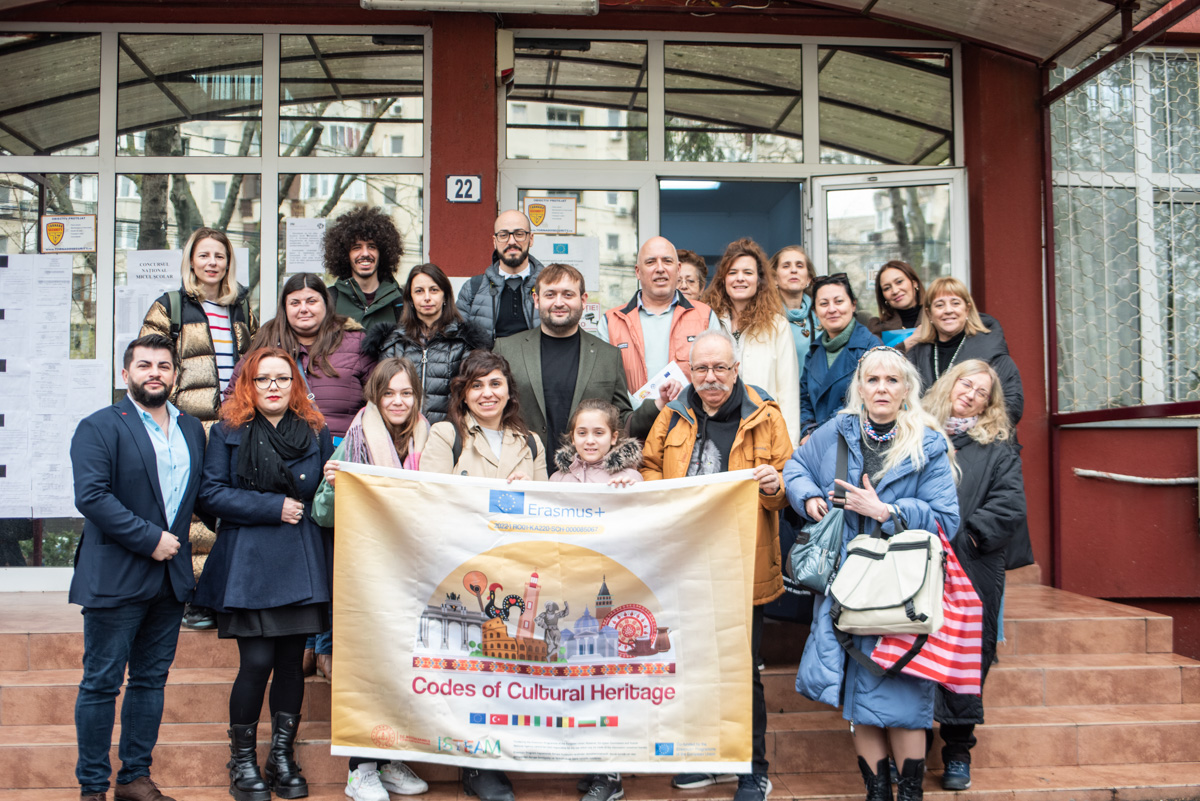 28 Apr

"CODES OF CULTURAL HERITAGE" PROJECT KICKS OFF IN BUCHAREST, ROMANIA

"Codes of Cultural Heritage" aims to explore and preserve cultural heritage across different countries. The project recently kicked off with its first TPM in the beautiful capital city of Romania- Bucharest. The project team had fruitful meeting sessions and finalized the monthly working schedule, the Gantt Chart, and the dissemination plan, and evaluated the first three months of work done so far.

One of the most interesting aspects of the meeting was the need analysis reports that were shared with all participants. These reports provided valuable insights into the cultural heritage of different countries and the challenges faced in preserving them. By identifying these challenges, the project team will be better equipped to develop effective strategies for preserving cultural heritage.

The meeting started with a lovely welcoming by the students of Scoala Gimnaziala 117. The students were dressed up in their traditional costumes and holding their traditional "Colac" that is served with salt. After the meeting, the project team visited culturally important places in Bucharest and Sinaia. One of the highlights of the trip was a visit to the Peles Castle, a Neo-Renaissance palace of Romanian Kings, which is located in the Carpathian Mountains, near Sinaia, in Prahova County, Romania, on an existing medieval route linking Transylvania and Wallachia. The castle, which was built between 1873 and 1914, is a true masterpiece of architecture and art.

During these 3 days, the project team witnessed the beauty of traditions, costumes, museums, palaces, and music in Romania. This was a perfect start for the "Codes Of Cultural Heritage" project. The project team members were able to immerse themselves in Romanian culture and gain a better understanding of the importance of preserving cultural heritage.

Preserving cultural heritage is important for many reasons: it helps us to understand our past, live our present better, and plan for our future. Cultural heritage is a source of inspiration, creativity, and identity. It tells us who we are and where we come from. It helps us to appreciate the diversity of our world and to respect the differences between different cultures.

However, preserving cultural heritage is not always easy. It requires the development of effective strategies for conservation, restoration, and interpretation, and this is what "Codes Of Cultural Heritage" aims to.

The next TPM will take place in Rome at the beginning of June. Stay tuned for more!